Letters to Santa

In December 1998, 30 generous volunteers from Community Impact took time out from their holiday preparations to buy presents for 35 needy children from John Gill School in Redwood City, California. This page is dedicated to them and to the staff at John Gill. It will eventually contain a report on this project, what worked and what should be improved, for the benefit of other people doing similar projects.
Dear "Santas":
You are the greatest! You accomplished 100%!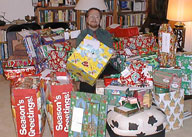 (Click here to see a big picture!)
Every single one of you came through, delivering all these marvellous presents to me on time, so that I could get them to the school as scheduled.
Thank you!

---
Maintained by Jim DeLaHunt. Last updated 12/18/98.
| Letters to Santa home | Jim's home page |